Thank you NFL for sponsoring this post. Can't wait for my next Homegate!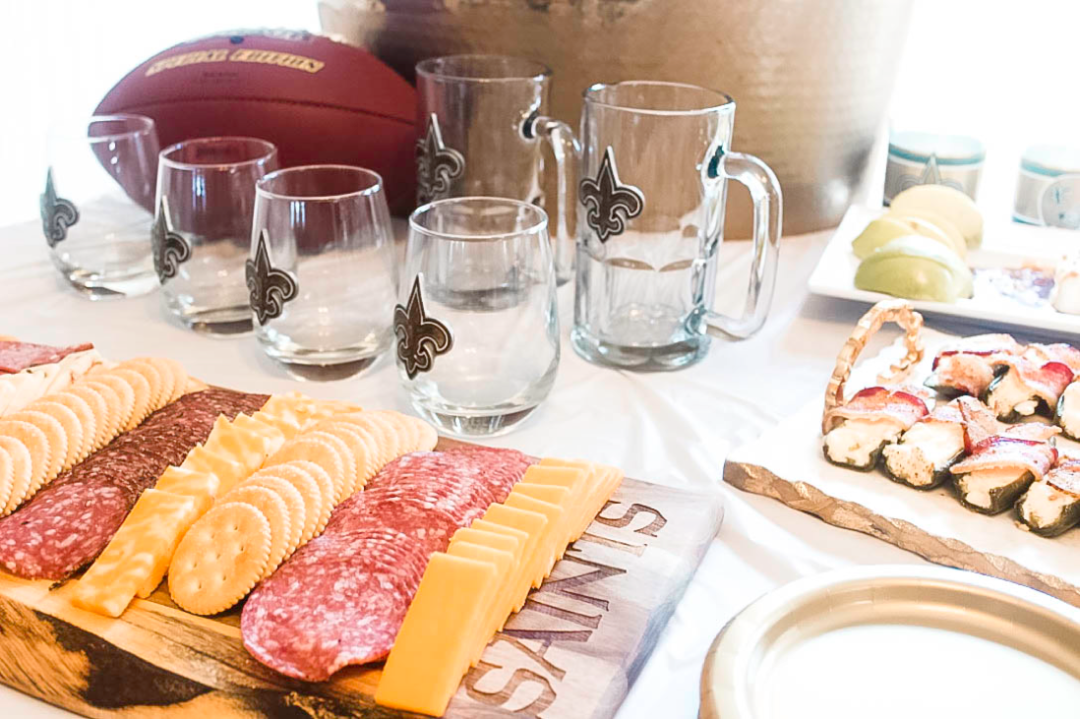 It's no surprise that being from the south, we live and breathe football! Sundays are always spent watching football and grilling out with our closest friends, family, and of course – the pups! My husband and his family are die-hard New Orleans Saints fans, so they're beyond excited that they were in the playoffs! We spent Christmas in Louisiana this year with all of his relatives, so I threw a homegating party on Christmas Eve to watch the Saints take the W over the Falcons! We had so much fun eating, drinking, watching the game, and running around the yard throwing the football at half time with his little cousins/nephew! Homegates are the perfect way to watch your favorite NFL team from your own living room when you can't make it to the game in person! Here are some easy tips to hosting your next NFL homegating party!
1. Decorate For Your Homegate: Decorating for parties is ALWAYS my favorite! The NFLShop.com is jam packed full of party planning supplies – plates, napkins, tablecloths, koozies and more! You can find everything in one place which is so convenient! Pick up some balloons in your team colors on the day of the homegate to tie to the corners of the party table and your all set!
2. Everyone Loves Food: Duh – It's never a party without food! There are so many delicious and easy-to-make finger foods you can find on Pinterest perfect for your homegate! I made a huge spread full of jalapeño poppers, chocolate and white chocolate macadamia cookies, chocolate covered pretzels and strawberries, cold pasta salad, pepperoni pizza bomb bites, fruit, apples with a caramel cream cheese dip, crackers with a raspberry jalapeño cream cheese dip, sandwiches, and chicken wings! We also had a cheese/meat tray which is always a hit at parties! They have a ton of gorgeous cheese trays for all of the NFL teams HERE.
3. Add a Signature Drink: A signature drink is always a fun touch when throwing parties! I wanted to have a drink that would appeal to the majority and would also be a gold colored drink to coordinate with the Saints team colors! I made a Mang-O-Rita based signature drink…it was delicious and such a hit with everyone!
Recipe:
*4oz Mang-O-Rita
*4oz Seltzer
*Splash of Lemon Juice
*Orange Wedge for Garnish
Lime-A-Rita has a ton of different flavors, so they're super easy when making signature drinks that will go with you favorite NFL team's colors! I ordered a variety of Saints glasses for the party from The NFL Shop. They have a HUGE selection of pitchers, beer mugs, wine glasses, stemless wine glasses, tumblers, etc. for each NFL team! Continue Reading